Volunteer Opportunities
Core Volunteer – Project Compassion volunteers visit one-to-one with nursing home residents, provide friendship, listen to them, encourage them to reminisce and maintain interest in people, activities and events in the nursing home and in the greater community. They can also assist residents with bingo, shopping, crafts, field trips and other group activities.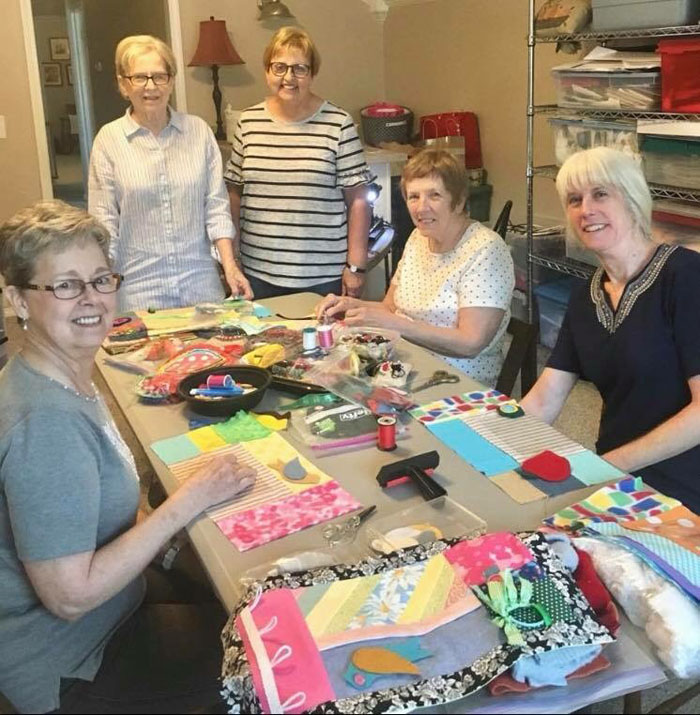 Specific Opportunities Include:
• Fidget Quilts – Sewing groups meet to make Sensory "Fidget" quilts that are beautiful, interesting, and a comfort to our residents living with Alzheimer's and other dementias by keeping their hands busy, relieving stress, and reducing agitation. Call us to donate materials, or to volunteer to help our "Fidgeteers" sew quilts!
• Music Volunteer – These volunteers go to the nursing home to play and share music. They can play instruments, sing, or help with our Lowrey Magic Wellness Activity (No musical knowledge required. Training provided by Project Compassion.) School groups and youth organizations can be scheduled.
• Pet Volunteer – Volunteers bring their mild mannered pets to visit with nursing home residents. Most residents have to leave their beloved pets behind when they move into a nursing home and this interaction is very much appreciated. Project Compassion will screen the pets and current shot records are required.
• GrandFriends – Volunteers who are under the age of 18, accompanied by an adult, who want to visit with residents, join in activities, sing, dance, perform skits, make cards, and help with holiday events. Church youth groups, school groups, scouting programs, youth clubs and service organizations are encouraged to volunteer.
• Write To A Resident – For volunteers who may or may not visit inside the nursing home, Project Compassion provides cards and information to volunteers who would like to write letters or send cards. This is a great classroom activity for students and corporate department projects. Residents love to receive mail!
• Episodic Volunteer – Students, civic organizations, and corporate partner employees who need to complete a certain amount of service hours and would like to visit residents in the nursing home and/or help with activities.
• Office Volunteer – Helps with data entry, makes copies, answers phones, coordinates special projects, and general office work at the Project Compassion office.
• Event Volunteer – Volunteers who help the Project Compassion staff with special events either inside the nursing homes, or at the Project Compassion office during campaigns such as Hearts of Gold Open House during Christmas time, and Easter plush bunny collection/delivery in the Spring. Volunteers may also help with luncheons, receptions, and other meetings that occur throughout the year.
• Hearts of Gold Volunteer – Helps inventory, pack, and deliver Hearts of Gold gifts to residents of nursing homes during Christmas time.


Please print the application, fill it out and mail it to us.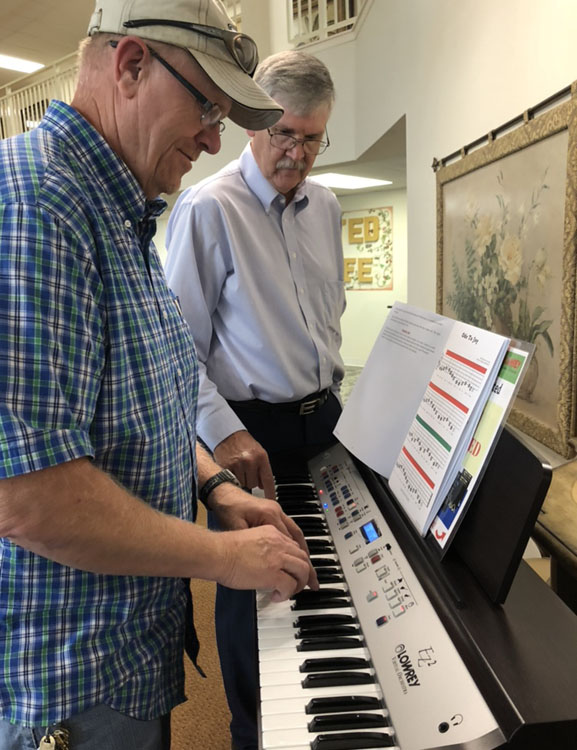 Lowrey Music & Wellness – Come check out the fun!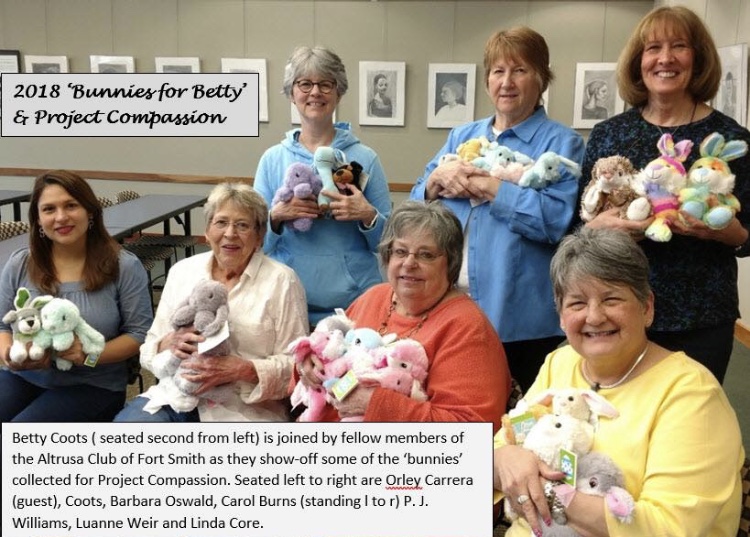 Altrusa Club of Ft Smith members collect bunnies for our Spring programs.