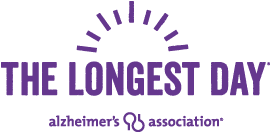 Thank you to everyone who participated in this year's "The Longest Day" Alzheimer's Awareness event! It was so nice to see everyone participating. Please don't forget to raise awareness, remember your loved ones, and wear purple all year long to help support this cause! For more information, go to: Alz.org.
***
June is Alzheimer's and Brain Awareness Month! Help us raise awareness about Alzheimer's disease. June 21st is "The Longest Day" event. Held annually on the summer solstice, the duration of this sunrise-to-sunset event symbolizes the challenging journey of those living with the disease and their caregivers.
Project Compassion urges you to join us in this event on June 21st by wearing purple, visiting a resident in a nursing home, and remembering dad on this Father's Day.
You can go to www.alz.org/thelongestday to donate and "take the purple pledge" to support those facing Alzheimer's.
Join us on Social Media! ‪#‎EndAlz‬ ‪#‎GoPurple‬ ‪#‎TheLongestDay‬ ‪#‎VisitAResident‬ ‪#‎RememberDad‬