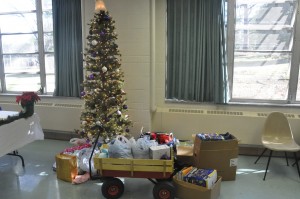 Our annual Hearts of Gold campaign will kick-off on Tuesday, December 3rd with an Open House at the S.t Scholastica Retreat Center (in the Trinity Junior High building) from  11:30 am to 1:00 pm.  Mayor Sanders will join emcee Drew Michaels from 40/29 and the Jack and Jill Daycare singers for a fun event! Guests are encouraged to bring unwrapped donations to the Open House.The event will involve door prizes, refreshments, and entertainment. 
From now until Christmas Eve,  Project Compassion will be collecting warm clothing items to be given as gifts for residents in the long term care facilities around the area. The items most requested from the residents are: sweat shirts, sweat pants, nightgowns, pajama robes, no-scuff house shoes, non-skid socks, large print Bibles and books, and puzzle sets with large pieces. If you have any questions regarding Hearts of Gold, please call 479-783-2273. We are excited to provide the residents from around the area their own special gifts this holiday season.
Hearts of Gold is sponsored by Simmons First National Bank.