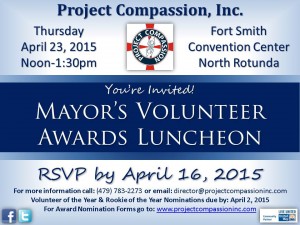 Project Compassion Mayor's Volunteer Awards Luncheon!
Thursday, April 23, 2015, Noon-1:30pm at the Fort Smith Convention Center in the North Rotunda!
The Gloria White Community Angel Award will be announced during the Awards Luncheon. To nominate someone for this award, click here for the Gloria White Community Angel Nomination Form. Gloria White Nominations are due by March 27th!
If you'd like to nominate a Project Compassion Volunteer of the Year or Rookie of the Year, please download the forms below. They are due April 2, 2015!
Volunteer of the Year Nomination Form 2015 (minimum of 3 years of service with Project Compassion)
Rookie of the Year Nomination Form 2015 (1 year or less of service with Project Compassion)