Contact us to become a Business Partner on these innovative programs:
Hearts of Gold – Our Hearts of Gold campaign helps provide gifts of warm clothing and blankets to nursing home residents with no family at Christmas. We have an annual Hearts of Gold Open House the first Tuesday of December to raise money and awareness for our campaign.
Music & Memory – We collect new and gently used iPods and other digital music devices and set up personalized music playlists for nursing home residents. "These musical favorites tap deep memories not lost to dementia [and Alzheimer's] and can bring participants back to life, enabling them to feel like themselves again, to converse, socialize and stay present." Musicandmemory.org
Lowrey Magic Music & Wellness – This is our new Adaptive Music Therapy program that we have partnered with Lowrey and Amro to introduce active music making activities to nursing homes. Residents can learn to play the Lowrey Virtual Orchestra Organ in a matter of minutes, improving their mood and quality of life. We are also working to start an age 65+ class schedule for members of the community to learn this fun way to make music!
Write to a Resident! – We partner with companies and individuals who write cards and send letters to nursing home Residents, particularly those who may not get mail.
Fidget Quilts – Sensory "Fidget" quilts are beautiful, interesting, and a comfort to our residents living with Alzheimer's and other dementias by keeping their hands busy, relieving stress, and reducing agitation.
Call us to make monetary donations for supplies to donate materials, or to volunteer to help our "Fidgeteers" sew blankets! To request a blanket for your loved one, call our office 479-783-2273.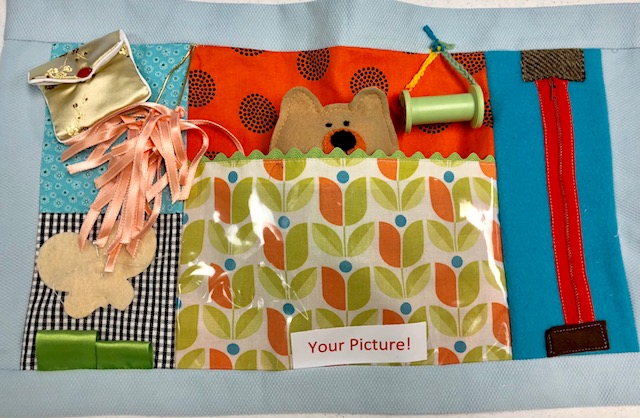 DONATE!
Make a donation in honor or memory of a loved one or volunteer.
Hearts of Gold Items (new items only, sizes Med-5X):
Pajamas
Lounge Pants
T-shirts (plain, not white)
Close-heeled Houseshoes
Sweat Shirts & Sweat Pants
Blankets & Lap Throws
Robes
Project Compassion is a 501(c)3 organization.